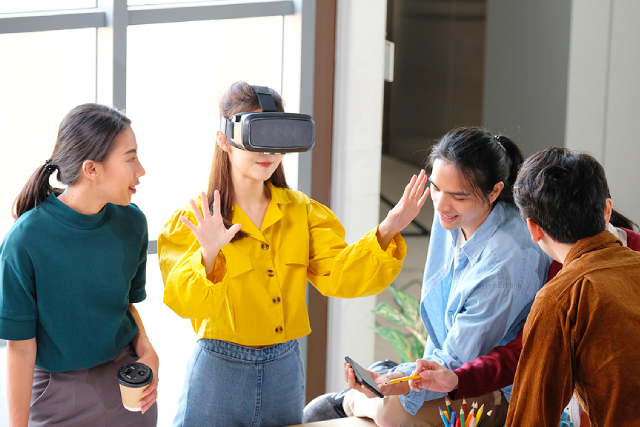 The virtual reality gaming world has only expanded in breadth and quality over the years. VR gaming has a whole host of benefits that are only starting to be explored. One of them is how it can help deepen team-building efforts and encourage teamwork. One of the best ways to do this is by playing multiplayer games – an experience meant to be shared.
Through these games, you can develop bonds between co-workers and team members that are special and leave long-lasting impressions. Whatever the genre, you can be sure that multiplayer VR games provide ample opportunity to get to know others in a relaxed but enjoyable setting.
So if you're considering a unique corporate bonding experience for you and your colleagues, here are some multiplayer VR games most suited to team building.
1. Arizona Sunshine
Arizona Sunshine was developed by Jaywalkers Interactive and Vertigo games for the medium of virtual reality. It even has the honour of being one of the pioneering games on the platform. With a ton of awards under its belt, there is no doubt that this game, set in a post-apocalyptic world, is of the highest quality.
Explore this immersive and decrepit world with up to three other players and work together to slay the undead zombies roaming it. The realism and compelling narrative will bowl you over as you and your teammates try your best to survive. And who knows what you'll learn about each other along the way? It is said that desperate situations bring out different sides of a person, after all.
2. Sam & Dan: Floaty Flatmates 
This game drops you and your teammate right amid a terrible storm set to lay waste to the world. The catch is that you are stuck in one building while your friend is trapped in another. The aim of the game is for both of you to join forces and build a bridge to the one boat that will take you to your salvation.
If you want to get playful, you can also play against your friend in a twist where your goal is to trap them in the building while you yourself attempt to escape. While this may seem counter-productive to team-building, it's an excellent way for both of you to let loose and gain a healthy sense of competition in a fun environment.
3. The Diner Duo
The Diner Duo is a multiplayer game developed by Whirlybird Games that tests your communication skills like nothing else. You play as a virtual chef tasked with cooking for everyone in the diner – within a set time limit, of course. The levels get increasingly chaotic, and you learn to lean on your teammate as things get increasingly tricky, an essential aspect of healthy team building.
4. Serious Sam VR: The Last Hope 
The popular action VR gaming franchise is back with Serious Sam VR: The Last Hope. You'll get to fight off hordes of aliens while playing as Serious Sam, one of the Earth's greatest heroes. This time, there's a multiplayer option so you can partner up with a teammate and protect the planet together. Learn how to cooperate and communicate with each other through this exhilarating game that's now meant for two.
Conclusion 
Virtual reality gaming is uniquely suited to team-building activities in several ways; you learn of each other's strengths and weaknesses in a stress-free environment, work together better and get used to each other's working styles, all while having immense amounts of fun.
The games above embody these factors to a tee, which is why V-Room offers players a chance to experience them for themselves. So, if you're looking to book your next corporate event or have been searching for a team-building activity that's as unique as it's effective, come on down to V-Room and immerse yourself in an experience unlike any other.